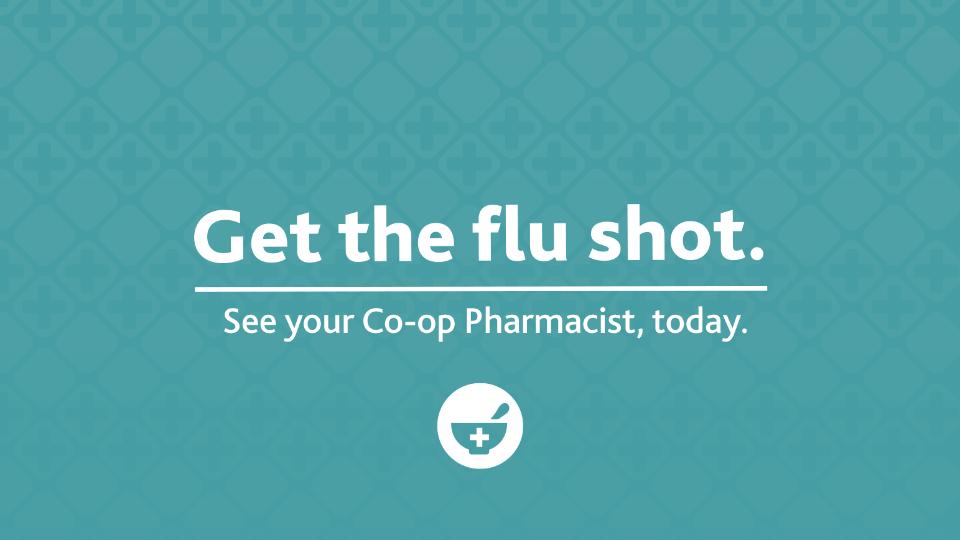 Get the Flu Shot
October 31, 2022
All North Central Co-op pharmacies offer in-store flu shot immunizations. See your pharmacist today or book your Flu Shot appointment by
calling our pharmacy team
.
All individuals must live, work or go to school in Alberta, must be five years of age or older and must show their Alberta Health Care card to be eligible for flu shots. The Fluzone HD vaccine for Albertans over 65 is subject to availability. Don't forget to wear a short sleeve shirt.
Available starting Oct. 17, 2022.


Protect Yourself With Adult Vaccinations
Multiple vaccines can be co-administered during your flu shot appointment including:
Covid-19 Vaccine

Shingles vaccine - 50 years and over

Pneumonia vaccine - 65 years and over AND those 18 and over with chronic diseases (diabetes, asthma, COPD).

HPV vaccine - 9 years and over

Meningitis B vaccine - 10 to 25 years of age

TD (Tetanus, diphtheria) - every 10 years for adults

dTap - one dose as an adult
What Infection Prevention and Control Measures are in place?

Patients will be asked to sanitize their hands with an alcohol based rub prior to receiving their vaccine.

Cleaning and disinfection of the immunization area (e.g., chairs, table, door handles) after each patient immunization. NOTE: Households can be immunized together.

Injecting pharmacists will wear protective PPE which includes masks and gloves.

Routine environmental cleaning, especially in frequently visited areas (e.g., waiting area door handles, washrooms) and on high-touch surfaces after 10 patients.
What to expect at your appointment?
Review what to except when getting your flu shot:
Self-screen for COVID-19 symptoms.
Be prepared for screening before entering.
Wear a mask or face covering.
Wear loose clothing with short sleeves.
Arrive on time, not early.
Limit the number of people going with you.
Find a safe waiting area post-injection. Patients must remain in the store for 15 minutes post-injection to monitor for anaphylactic reactions.
Review post immunization after care guidance instructions:
Individuals who receive influenza immunization may experience side effects. These reactions are most often mild, develop within 24 hours and could last 24-48 hours.
Many of the reactions that can occur after the vaccine are similar to the symptoms of COVID-19 such as:
fever and/or chills
sore throat, cough or runny nose
feeling tired
headache or body aches
poor appetite, nausea, vomiting, stomach pain, or diarrhea
If the symptoms resolve within 48 hours after onset, the individual can return to normal activities, unless they have been instructed to quarantine or isolate for other reasons. If symptoms persist longer than 48 hours, and not related to a pre-existing illness or health condition, individuals must contact Health Link at 811 or complete the online COVID-19 online self-assessment.