Share in Our Profits
February 1, 2023
2021-2022 Allocation
In the 2021-2022 fiscal year, despite overcoming many challenges, North Central Co-op had a financially positive year. As a result, North Central Co-op has allocated $4.38 million to its member-owners. Of that total, $2.6 million was paid out as cash dividends and $1.7 million is held in our membership reserve*.
Independent from the allocation we receive from our wholesaler, Federated Co-operatives Limited (FCL), our Association as a whole broke even. FCL also had a remarkably strong year compared to the year prior. As a result, FCL was able to allocate to the individual retail Associations across Western Canada, which are dollars that will get passed along to local members and reinvested locally.
Members receive dividends based on their yearly purchases and our overall performance and profits. North Central Co-op's total sales for the year ending January 31, 2022 amounted to just over $257 million with a net income of $7.71 million. Your locally elected Board of Directors have approved allocation of $4.38 million to North Central Co-op member-owners based on the following:
3% Full pharmacy prescriptions

2.5% Food, liquor and convenience purchases
4% Gas bar petroleum
3.45% Home and building, tank and equipment, bulk propane purchases
4% Bulk petroleum and cardlock
2% Bulk oil
Thank you to all our loyal members for continuing to support your local Co-op. You can now request a digital copy of your equity statement, sent directly to your inbox.
Support your Co-op in more ways than one.
When you purchase more than one of our products or services, your investment grows, and you help keep more money in your community. Any profits realized within the year are shared with you and your community. Annually, equity is shared with our members either as a cash dividend or held in our membership reserve. Like other investments, allocation depends on our overall annual performance, future investments and growth objectives.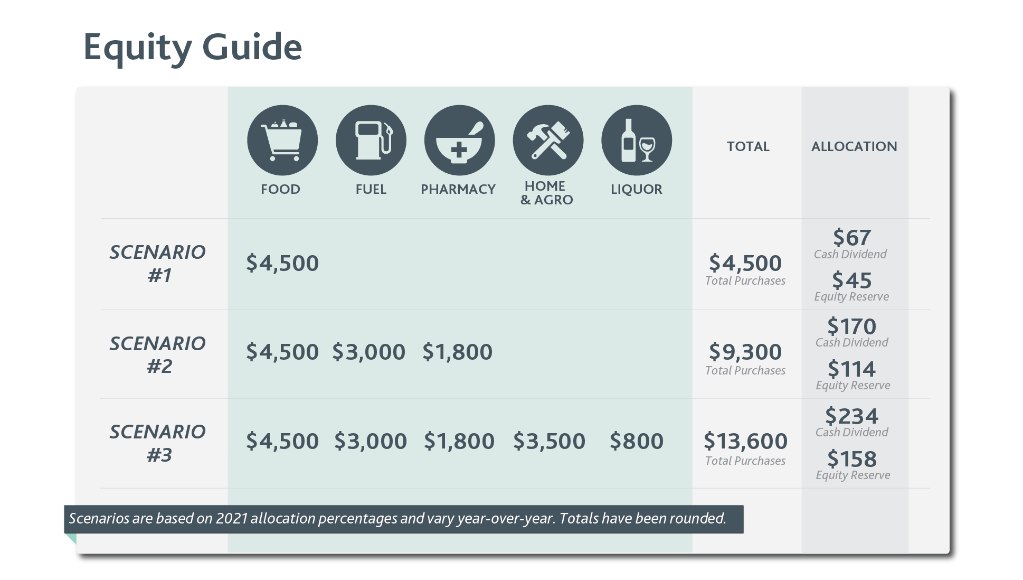 *Applied to your equity reserve based on annual purchases. Your accumulative, credit equity is accessible to you when you turn 65 or move away.
Discover more: