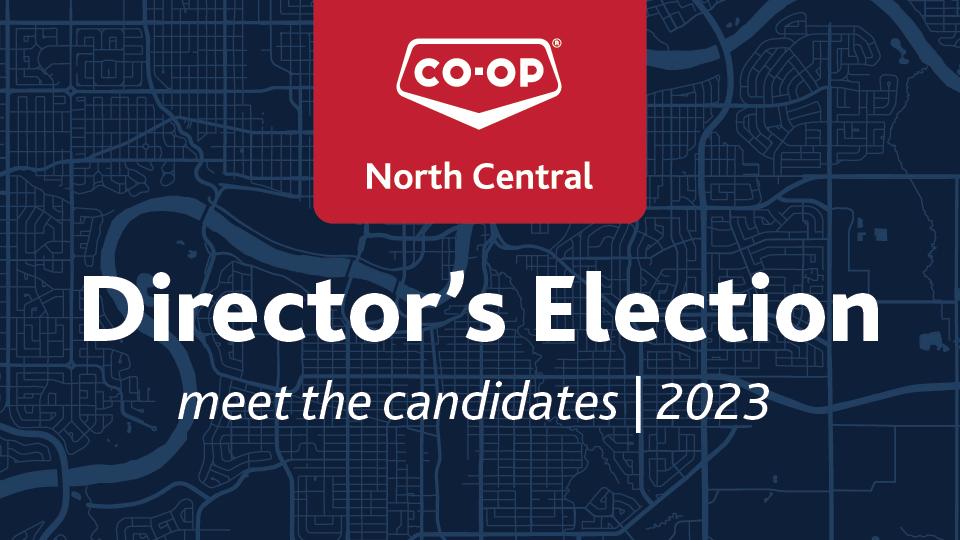 Director Election
May 16, 2023
With four vacancies and a number of qualified candidates interested in acting on North Central Co-op's Board of Directors, we are hosting an online Director's Election from May 17 — 31, 2023. Election results will be shared at our Annual General Meeting (AGM) on June 13, 2023.

At Co-op, we believe in empowering our member-owners to shape our future. We strive to ensure that our Board of Directors is composed of individuals who possess a diverse range of skills, experience, and attributes. This is achieved through a rigorous nomination and election process, where all members are given the opportunity to have their voices heard. Help us elect our Co-op's future leaders by casting your vote. Voting closes May 31, 2023 at 11:59 pm.
Voting in now Closed.
Eligibility & Passcode

In order to be eligible to vote, you must have joined our co-operative on or before April 24, 2023. Each member is entitled to one vote. If you are unsure whether you are eligible to vote, or have issues logging in or casting your vote, please e-mail voting@nccoop.ca for support.
When you are ready to vote, be sure to have:
Member ID — North Central Co-op Member #

Election Passcode — Postal code with first 3 digits of your last name, including a dash in postal code. Ex. T5L-1B5ABC


Below, you'll find a concise biography for each candidate, along with their introduction videos. We believe that an informed decision is crucial to ensure that our Board truly reflects the values and aspirations of our membership, allowing our Co-op to flourish and expand. Your voice matters, and together we can build a stronger future for our Co-op.
If you have any additional inquiries or feedback concerning the online election, please don't hesitate to reach out to us at voting@nccoop.ca.
As the Town of Stony Plain's Chief Administrative Officer, Tom has extensive experience in policy advising, stakeholder management, and community development. He has instilled in his organization a set of values prioritizing respect, innovation, integrity, service, and excellence. Additionally, Tom is committed to establishing strong and trustful relationships with local businesses and optimizing prospects for future success.
Tom has also spent significant time and effort developing his leadership capacity and designing his organization for success. He is a dynamic self-starter with well-developed leadership skills and techniques who prioritizes structured time management and goal-setting to achieve organizational goals. With an educational background in Economic Development and Aboriginal Studies, continuing education in human resources and effective leadership, Tom brings a wealth of knowledge and expertise to the Board.
Overall, Tom is a customer-focused and governance-centred professional with a deep understanding of strategy, fiscal/finance development, and values-based communication. He believes in the Co-op business model and considers broad-based community development an objective for us all. As such, if re-elected, Tom would be extremely well-suited to act as an ambassador to our association and community at large.
---
Dr. Morpurgo has over 25 years of business experience and has held senior financial roles in small and medium businesses in several industries, including retail, food manufacturing, wholesale distribution, professional services, advertising and public relations, and IT.
Currently, Dr. Morpurgo is a permanent Faculty Member with the Athabasca University Faculty of Business and an associate Faculty Member with the Cape Breton University Shannon School of Business. Dr. Morpurgo previously held full-time and sessional teaching appointments at the Selkirk College, Northern Alberta Institute of Technology (NAIT), the University of Alberta and MacEwan University.
Mark has also been an active member of his community, where he previously volunteered as a Board Member with Alberta Avenue Community League and the Theatre Prospero Association. Mark was a Member of the National Board of Examiners with CMA Canada and resided on various committees and task groups provincially and nationally. Mark is currently a director and chair of the audit and finance committee of the Canadian Centre for Professional Legal Education (CPLED).
Mark, and his wife Brandi, also own and operate the Daisy Chain Book Co., a community-focused independent bookstore with locations in Edmonton and Beaumont. With a strong financial background and commitment to supporting local, Mark would make an excellent future Board representative.
---
As a member of the Executive Leadership Team at Servus Credit Union, Taras was responsible for setting the long-term strategic direction and annual operating budgets to help guide the operational direction of the credit union. In his role as corporate governance lead and Corporate Secretary, Taras ensured that all Board meetings and planning activities were carried out in compliance with government regulations and credit union bylaws and that the Board fulfilled its fiduciary duties as per governance policy and corporate bylaws.
As Principal at TN Governance and Strategy, Taras works with clients to ensure their Board governance is following best practices and assists in facilitating the development of a robust strategic planning process that will guide their organization toward its vision, mission and purpose. His Institute of Corporate Directors designation (ICD.D), management skills, government relations experience, and knowledge of governance have allowed him to make valuable contributions while serving on several Boards and their committees.
With a strong belief in the cooperative movement and values, Taras has been involved in the credit union system both as an employee and on various boards. He sees the seven cooperative principles as a key differentiator in a crowded marketplace, with democratic member control, member economic participation, and concern for community standing out as particularly important. Taras's banking experience in a member-owned financial institution, coupled with his knowledge, skills, and ethical approach to business, make him an excellent fit for the North Central Co-op Board of Directors.
---
During her term, Tammy completed all three levels of her director-level training, demonstrating her commitment to continuous improvement and excellence in her role. She also completed a post-secondary course in Macro Economics, which has given her a deeper understanding of economic principles and how they apply to the Co-op.
Tammy has served as Chair of Member Relations and is currently the Chair of Governance and Vice Chair of the Board, demonstrating her leadership and strategic thinking skills. Her passion for business and marketing has led her to become self-employed for the last 32 years, where she is internationally recognized in her field for her work in the ceramic arts. Her pieces are held in private collections around the world.
Despite her busy schedule, Tammy finds time to volunteer on a weekly basis for other local organizations involved in both the arts and humanities. Tammy is extremely family-oriented and enjoys spending time with her wonderful partner in life of 32 years and their two amazing adult sons. They love camping in the mountains, hiking, cycling, and quadding. She also loves spending time at the lake, paddleboarding, surfing, and swimming.
Tammy's commitment to excellence, passion for business, and dedication to her community make her an exceptional candidate for re-election.
---
Currently serving as a Market Director, Mark manages a small team in Northwest Alberta, overseeing relationships with major real estate developers and owners in the region. He is highly regarded for his ability to support and collaborate with entrepreneurs from all industries and of all sizes, continuously learning from their experiences.

In 2020, Mark joined the Board of Directors at North Central Co-op, where he has demonstrated a strong commitment to governance excellence. He took on the role of chairing the Finance Audit and Enterprise Risk Committee, contributing his expertise and knowledge to enhance the cooperative's financial health and risk management strategies.

Mark's passion for continuous learning is evident in his pursuit of various educational endeavours. In 2017, he successfully completed an MBA with a focus on Design & Innovation, Technology, and Corporate Strategy. This academic achievement reflects his dedication to staying ahead of industry trends and embracing innovative approaches to business.

Beyond his professional pursuits, Mark actively engages in community and charitable causes. He participates in events such as Walk a Mile in Her Shoes, Movember, and blood donor clinics, demonstrating his commitment to making a positive impact in society. For the past eight years, he has held various roles within the Rotary Club of Spruce Grove, where he currently serves as the President-Elect. Mark finds balance in his life by pursuing his interests in soccer, golf, skiing, and hiking during his leisure time.

With his wealth of experience, dedication to learning, and active community involvement, Mark Radke brings a well-rounded perspective and would serve our local Board well.
---
Voting is Now Closed
Voting closes May 31, 2023 at 11:59 pm. Results will be shared at our upcoming Annual General Meeting on June 13, 2023.
---
---
In an effort to improve communication with our members, we want to ensure we have the most up-to-date contact information on file. Using the link provided below, complete our membership contact form.

Discover more: