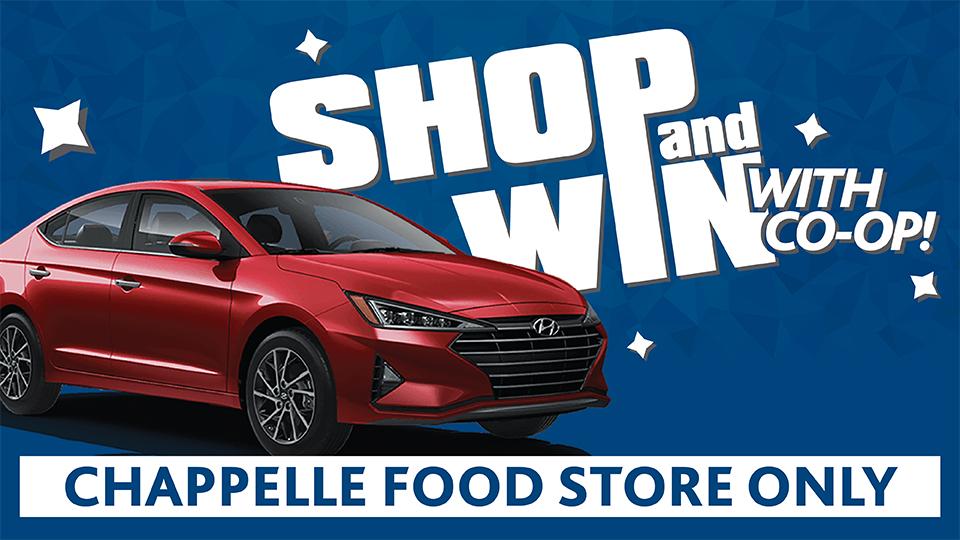 Shop and Win
December 16, 2019
DUE TO THE UNCERTAINTY SURROUNDING COVID-19, WE ARE DELAYING THE FINAL DRAW DATE UNTIL FURTHER NOTICE.
-------
That's right!! We are giving away a 2020 Hyundai Elantra Essential at our new Food Store in Chappelle! With every $50 you spend, receive an entry form to enter.
For full contest details, see the Contest Rules and Regulations. Just another reason to shop Co-op!
From now until April 11th, 2020, we will be drawing names (10 each month). So far, these lucky individuals are confirmed finalists:
Ashley Porter
Phoenix Shirton
Kwanele Mabaso
Justin Boisvert
Doreen Ruhigisha

Amanda Witoshynski

Karyn McCallister

Clarice Stanley

Geoff Schroder

Crystal Saville

Tina Burns

Cassandra Thiem

Serina Classen

Mary Catindig

Samuel Irving


Janelle Lockwood

Charlene Lim

Don Stanley
Wendy Kettle

Jessica Marusiak

Stellah Munaki
Frank Kachuk
Amanada Kokaram-Pacheco
Ron Tanasichuk
Mandy Miailo
Helen Kuckelmann

—

—

—

—

—

—

—

—

—

—

—

—

—

—

—

—

—

—

—

—

—

—

—

—