Co-op Coming Soon To St. Albert
Actions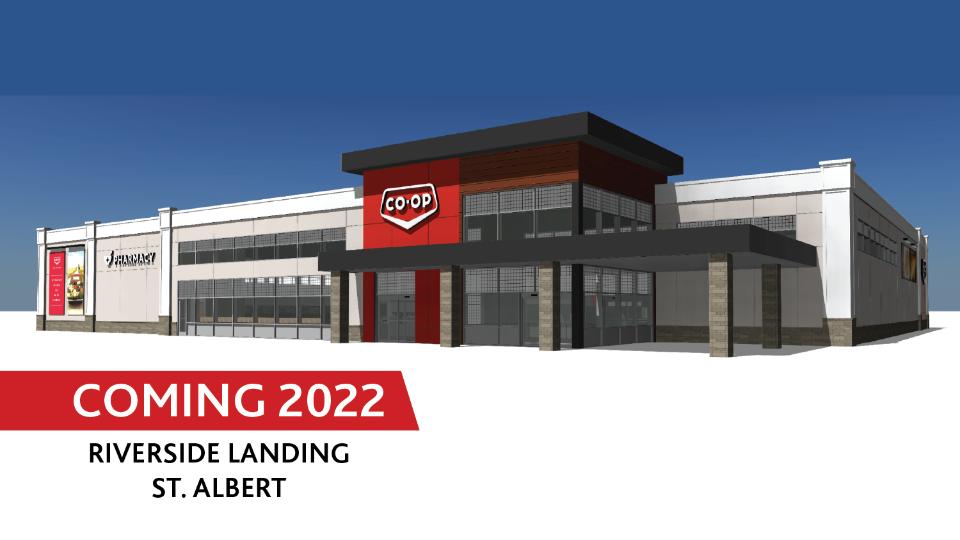 Co-op Coming Soon To St. Albert
March 18, 2020
North Central Co-op is extremely excited to announce that they will joining the Riverside Landing community in St. Albert in 2022! Working with Hopewell Developers, North Central Co-op will open a 32,000 square foot food store with a pharmacy, along with a gas bar and liquor store in the southwest portion of St. Albert, with access close to Ray Gibbon Drive.
This is the first Co-op Grocery location in St. Albert and second new multi-development location for North Central Co-op, which represents a new growth chapter for the Association. From humble beginnings, North Central Co-op has grown to serve communities in Edmonton, Fort Saskatchewan, Legal, Stony Plain, Spruce Grove, Sherwood Park, and now St. Albert.
According to North Central Co-op's CEO, Dean McKim, "Co-op does business a little differently. Our profits are shared locally with our members and reinvested back into the communities we serve." He adds that, "Investing in St. Albert means more than just laying brick and mortar, it means making an investment in the people and community of St. Albert."
Carla Debert, Marketing and Community Relations Manager, reiterates that point by adding, "As a co-operative, we have an obligation to support and strengthen the communities we serve. We have already started working with St. Albert organizations and groups to support initiatives that matter to the community of St. Albert and our future customers."
For more construction updates and information, future customers are encouraged to follow North Central Co-op on social media. Construction will begin in the spring of 2021 and the full project is slated to be complete in early 2022.
For further information, please contact:
Samantha Dunn
Communications & Brand Specialist
North Central Co-operative Association Ltd.
communication@nccoop.ca
780.963.0500 Ext. 205
About North Central Co-operative Association – North Central Co-op is a member-owned co-operative governed by a democratically elected Board of Directors. The Association has proudly served North Central Alberta for more than 74 years. Today, North Central Co-op serves more than 95,000 members—and many more customers–in Stony Plain, Sherwood Park, Edmonton, and Fort Saskatchewan. It operates Food, Gas, Convenience, Home Centre, and Liquor stores. The Co-op brand is built on the idea of being truly local and the promise of staying that way.